Intro to Hip-Hop Production Software
Before the late 90's, using computers to create hip-hop was virtually unheard of. This didn't gain steam until the mid 2000's and even then, it was mostly Avid's Pro-Tools were mainly used in recording studios.  To make a beat using software, you'll need a digital audio workstation (DAW) and plugins for virtual instruments or effects (VST, VSTi, DX, DXi,  MAS, RTAS, AU, etc). Read more about plugins here.
So.. what is a DAW?  A digital audio workstation (DAW) is used to edit, record and produce audio files. Modern software DAWs are a complete music making solution, allowing you to make a complete song (including vocals) from multiple recordings and track in the program.  DAWs differ from each other as features may vary between them, and some are more specifically tailored to be stronger in different aspects in production.  For example, two popular beat making programs are Image-Line's FL Studio (formerly, but still popularly known as Fruity Loops) and Avid's Pro-Tools.  FL Studio's interface places emphasis on making beats and rhythms, while Pro-Tools, is a multi-track editor and sequencer. Both software programs are capable of playing instruments and sequencing to produce high quality beats.
Plugins can be best described as add-ons for your DAW. There are a few different formats of them. Some work only on PCs, some with Macs only, and some work on both. An explanation of them is below, courtesy of  http://tweakheadz.com/software-plugins .
Popular beat-making software include:
FL Studio 11
FL Studio is perhaps the most popular beat-making software in use today. It first gained popularity in the late 1990s and saw amazing increase in users throughout the 200os. Up until the arrival of Maschine, FL studio had no competition due to it being unmatched in ease of use and flexibility.  It has evolved to become an all-in-one production powerhouse allowing you multiple ways to edit, manipulate, lay down, and  arrange your sounds into a full song. It accepts VST, VSTi, and DX plugins, allowing you to make use of thousands of addon instruments, EQs, and effects, and the software features an intuitive mixing system allowing for you to get your sound just right.  Trap music specialist Lex Luger and Boom-Bap expert 9th Wonder both used Fruity Loops to make beats for many artists such as Rick Ross and Jay-Z respectively.
---
Native Instruments Maschine/ Maschine Studio
Maschine is a hybrid hardware/software beat-production workstation meant for use with the bundled drum pad controller of the same name. The software element can run as a stand‑alone application or as an AU/VST/RTAS plug‑in in a different DAW.  It allows built‑in drum sequencing, sampling and loop slicing.  Since it's release in 2009, it has gained acclaim as a top flight production package and many notable producer/beatmakers from various genres that previously used hardware have converted to using it due to it's easy workflow, it's many features previously only found on hardware drum machines, the level of control you get over virtually everything in your beat, and the quality of sound. Not to mention that Maschine has the built-in ability to emulate classic drum machines like the Emu-1200 and Akai MPC 60. It has an extremely large and dedicated user community and runs neck and neck with FL Studio in popularity.
---
Propellerhead Reason
Reason is a robust, powerful piece of software that is very unique in its look, which is that of a studio equipment rack full of devices. It may not be the most intuitive of programs, but once you've gotten used to the workflow and the "reason" way of doing things, there's almost nothing you can't do.  Since reason doesn't allow for 3rd party plugin formats like VST and RTAS like almost every other software solution does, it makes up for this with powerful, high quality sound addons called refills and effect addons called "rack extensions".  Propellerhead encourages Reason users to create their own addons and as a result, thousands of plugins for Reason are available made by 3rd party companies and even home users.
---
Akai MPC Studio and MPC Renaissance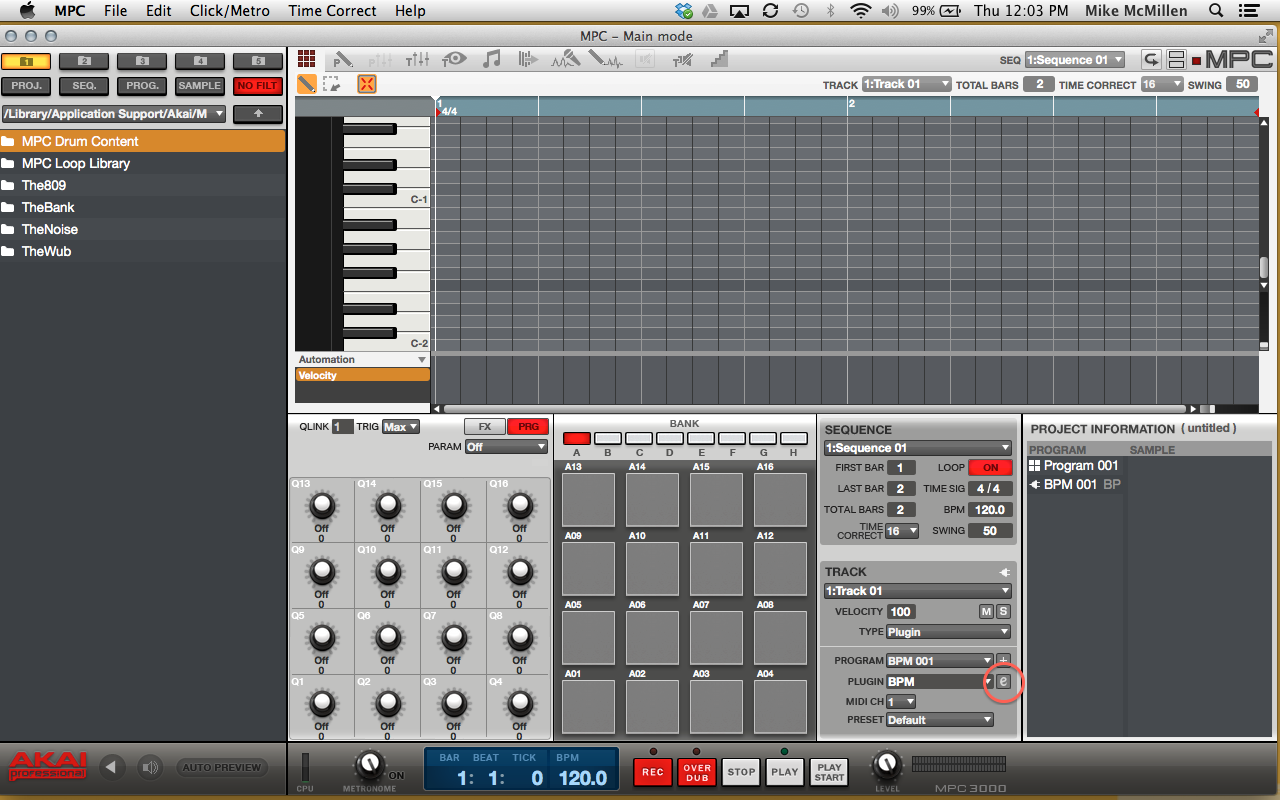 Akai once ruled the world of  hip-hop production equipment. They created the legendary series of MPC hardware drum machines and samplers that are legendary in the annals of rap music. However they were very slow to dabble in the world of computer production solutions.  After the arrivial of Maschine saw MPC users ditching their hardware for that software, Akai decided to to strike back, first releasing the feature MPC Renaissance and a direct competitor to Maschine called the MPC Studio in 2012.  Like the Maschine, this is a hardware/software hybrid package with a drum pad controller, and the software element can run as a stand‑alone application or as an AU/VST/RTAS plug‑in in a different DAW.  The Renaissance features a slew of knobs and sliders to control the daw and hardware is somewhat of a soundcard in itself features multiple inputs and outputs for connection to other audio devices for sampling or throughput. The MPC lacks these connections, but they both share the same software, so everything else that the REN can do, the Studio can also pull off.  The Ren and the Studio haven't caught on with users as expected as the concept is close to the Maschine's and users have said that the software can get glitchy at times. Akai has stated they're working on strengthening the software.
---